Barrister Wig
Product Code:
Barrister Wig
Reward Points:
0
Availability:
In Stock
Price: US$699.00
Ex Tax: US$699.00
Our wigs are hand made from the hair of Mongolian ponies and Australian Brumbies, which are the highest quality of horsehair available in the world. The hair used to make the wigs are retrieved using natural methods of cutting, that in no way harm the animals. Once the hair is retrieved, it is then treated, sterilized and bleached to ensure it is completely clean and conforms to the highest of safety standards.
Each wig takes approximately ten days to make, and are individually hand made by a single artisan. The wigs are not produced in any factory type production line system. The methods used are the same as used for the last 100 years, which ensure the wig retains is natural shape for a lifetime.
Write a review
Your Name:
Your Review:
Note: HTML is not translated!
Rating:
Bad
Good
Enter the code in the box below:

Rules Of Measurement
Please supply the required measurements for the circumference of the head. To do this, please start with your tape 1 inch above your eyebrow (see diagram). Please measure 360 degrees around your head, and cross just above your ears. Please end at the same point where you start measuring from (see diagram).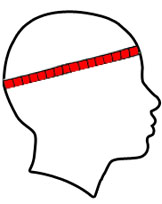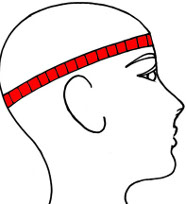 Assistance

If you require sizes outside the ranges available, please e-mail us at sales@legaltailor.com, and we can arrange for other sizes to be made up for you